GAMEROOM







The Largest Selection of Game Room Entertainment and Equipment
In addition to pool tables, we offer a variety of game tables and arcade machines for your home. Unlike big box brands, our game tables are of the highest quality.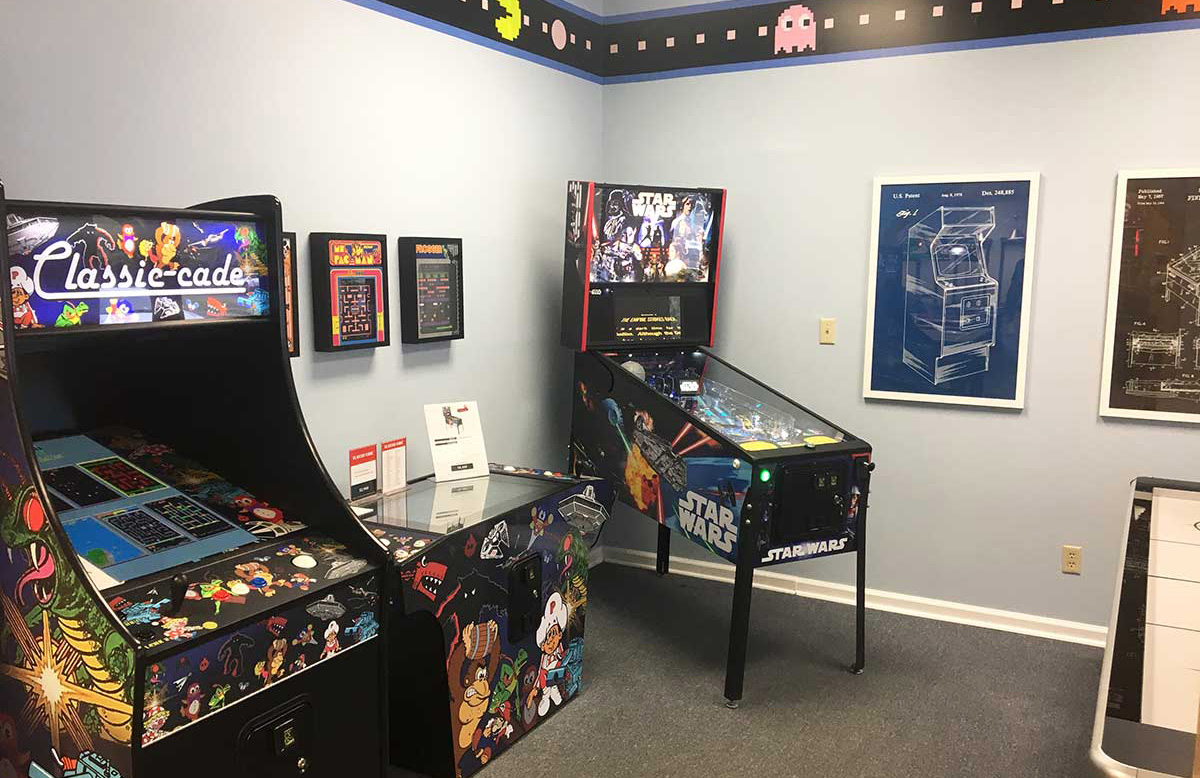 PINBALL MACHINES

We carry the latest pinball machines by Stern. Stern Pinball is the current leader in pinball manufacturing, offering several new titles each year.

Stern pinball machines are commercial grade and state of the art, featuring fully licensed popular themes, LED lighting, and even HD, full-color displays. Please contact us to find out which titles are currently available.

ARCADE GAMES

We offer home model, multicade machines in both upright and cocktail versions that provide a vintage experience, minus the quarters. Stop by our store to see what's currently available, and take a trip down Retro Lane with classic titles such as Pac-Man and Donkey Kong.

AIR HOCKEY

Brunswick Billiards literally invented the game of air hockey. Please visit our showroom to see a Brunswick air hockey table today. We also carry other brands of air hockey, in order to give you the multiple size and style options.

PING PONG

We carry high quality, heavy duty ping pong tables by Brunswick. These tables fold up and roll away, for easy storage. We also carry outdoor ping pong tables.

FOOSBALL

Foosball tables by Brunswick and C.L. Bailey are normally on display in our Savannah showroom. We can special order tournament style tables by Tornado and outdoor, weatherproof tables by Garlando. Our foosball tables are heavy duty, high quality models, built to last. Buy from us and enjoy free in-home delivery and complete assembly.

SHUFFLEBOARD

We offer shuffleboard tables in a range of lengths by Brunswick, McClure and Champion. We normally have one shuffleboard table on display in our showroom.

CARD TABLES

Coastal Billiards offers a variety of poker tables. We carry 48" and 54" flip-top models that allow you to enjoy either a dedicated gaming surface or an attractive dining surface. We also offer 3-in-1 bumper pool tables.

Our poker tables are available in a choice of wood finishes, and can be purchased with or without matching chairs. Please visit our Savannah showroom to see the poker tables currently on display.

Coastal Billiards is Savannah's source for a full line of poker accessories, including chips and chip sets, Kem playing cards in a range of sizes, basic playing cards, card shoes, deck shufflers, and more.

Additionally, we carry dice, dominoes, and tournament chess sets.

DARTS

Coastal Billiards is Savannah's local source for darts, dartboards, and accessories. We carry tungsten barrel darts by Hammerhead, Piranha, Sharp Shooter, Shark Fin, and Renegade. We also carry a variety of nickel-steel alloy and brass barrel darts. Visit our store today, where you're welcome to try out any darts on our practice board.

We offer a full range of dart accessories, including many types of shafts, flights, replacement tips, rings, sharpeners, tools, rosin, and more, plus cases and inserts.

We stock a variety of bristle dartboard, including Blade 5, and Alien. We also have a number of different dart cabinets and backer boards, scoreboards, outcharts, throw lines, and more.

POOL CUES

Coastal Billiards stocks Savannah's largest selection of pool cues by Meucci, McDermott, Lucasi, Cuetec, Players, Stealth, and more. We offer both 2-piece cues and 1-piece cues. We can adjust the weights of most cues that we sell.

We also carry cue cases in a range of sizes and styles. Please visit our store for your cue accessory needs, including chalk by Master, Silver Cup, Kamui, and Predator, as well as replacement tips and tip tools, shaft care products, training balls and videos, and more.

AND MORE

Coastal Billiards carries a range of furniture and accessories for your home billiards or game room. Please visit our Savannah showroom to see a wide selection of billiards products, including pool table lights, covers, cue stands and racks, billiard ball sets, table racks, and cue accessories. We also offer pub tables and chairs, spectator chairs, and signage, in addition to NCAA and NFL licensed products.